With a bottom mount fridge, you can take and put your foods in the fridge compartment ergonomically. It suits people who access the fridge compartment more often than the freezer. The fruit and vegetable compartment normally is at your waist height, so you don't need to bend down when you need to take any fruit or vegetable.
But which one is the best?
According to our research:
Best Bottom Mount Fridge in Australia 2020: Fisher and Paykel 519L Bottom Mount Refrigerator
Best Value for Money Bottom Mount Fridge: Hisense 514L Bottom Mount Refrigerator
Best Bottom Mount Fridge in Australia 2020:
Fisher and Paykel 519L Bottom Mount Refrigerator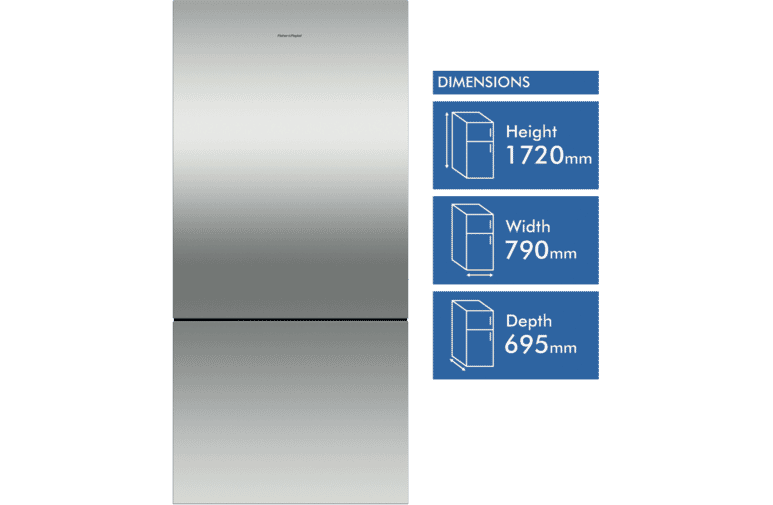 This bottom mount refrigerator is awarded as The Best Bottom Mount Refrigerator 2020 by ProductReview.com.au. Fisher & Paykel is also the Best Brand for Fridges according to CHOICE. Its internal layout is well planned. You can fit many items in the fridge. It is equipped with the latest technology for the cooling system.
Best Value for Money Bottom Mount Fridge:
Hisense 514L Bottom Mount Refrigerator
You can get a bottom mount fridge with 514 litres capacity and water dispenser that does not require any plumbing for a similar price as other bottom mount fridges with less capacity and no water dispenser. No wonder this is one of the best selling bottom mount fridges in Australia
What Is a Bottom Mount Fridge?
Bottom mount fridge is a type of refrigerator that has a freezer design at the bottom. You don't need to lift your feet if you want to reach the freezer section of this refrigerator.
Because of its location at the bottom, you can reach the freezer section to store anything with ease. Even when the food or drink you have stored is frozen, you don't need to exert a lot of energy trying to retrieve it.
Bottom mount fridges have a market of their own for those who don't like to go to the trouble of getting to the freezing part. You can pick up more easily if the freezing section is down. Bottom mount fridge products will provide many conveniences for those of you who choose them. With several shelves that are present to store various kinds of food and drinks, this product is suitable for those of you who like a hassle-free refrigerator.
Pros
Bottom mount fridge has several advantages that have made it preferred by many customers. You can find out some of its advantages below.
Save Space
Bottom mount fridge design is considered to save your cramped space. Why is that? This is because this type of refrigerator does not have such a large size that you can place it anywhere without having to think about other things.
You will have more flexibility with the bottom mount fridge model because the product is designed with various space-saving features. Space-saving features such as pull-out drawers to adjustable shelves will make it easier for you to determine which one is the best for your needs. You can accommodate any food easily if you have a refrigerator like this one.
Extra Comfort
In general, the refrigerator door is opened more frequently while the freezer is opened less frequently. This is because people consume more refrigerated foods and drinks than frozen ones. With the freezer model at the bottom, the fridge section occupies a more accessible space so you don't have to bend over when you want to grab something.
It's easier to grab anything without worrying about getting lost in the dark corner at the bottom of the fridge. Access and storage of the bottom mount fridge are also more convenient as most bottom freezers are equipped with a handy pull-out basket. This will help keep your space more efficient.
Easy Temperature Setting
With the freezing position at the bottom, you can find the temperature setting button on the refrigerator easily. This advantageous design will make it easier for you to adjust the temperature to your liking. You can adjust the temperature to anything without worrying.
You can even store a variety of drinks in the pre-set beverage temperature that is displayed in the drawer itself. You can also use the vegetable shelf drawer and set it at a different temperature than the main refrigerator temperature. The ease of this temperature regulation will help keep your produce fresh longer and save more money.
Cons
Apart from having advantages, a bottom mount fridge also has drawbacks that you should consider. Some of the shortcomings of the refrigerator model with the freezing position below are as follows.
Expensive
Bottom mount fridges come at a fairly expensive price when compared to top mount fridges. Although the price always depends on the size, brand and features in the unit, in general, this type of refrigerator tends to be more expensive because of its design.
You will find many bottom freezer fridges that offer French door designs for the top. A design like this will cost you more energy so you will find a higher monthly power usage cost. You should consider this part if you are purchasing a bottom mount fridge.
Back Disorders
Frozen foods usually weigh more than other foods. When the freezing section is at the bottom, then you have to bend over to get it. For those of you who don't have spinal problems, maybe this won't be a problem.
But if you have parents or the elderly at home, of course, this will be a problem. Bending and lifting heavier items can often be a dangerous combination for anyone with spinal disorders. You need to put something heavy down and that will endanger yourself. So you should make sure there are no problems with bones if you want to bring this refrigerator home.
Measurement
The bottom mount fridge comes with a variety of measurement options. The size difference in each bottom mount fridge unit is influenced by the price as well as the brand you choose.
Overall, a bottom mount fridge unit measures around 54 to 80 cm in width, then 130 to 180 cm in height and 59 to 75 cm in depth. While the capacity offered by each unit ranges from 200L to 500L which you can use to accommodate various kinds of food and beverage ingredients.
How Much Does A Bottom Mount Fridge Cost?
For the price you have to pay, each bottom mount fridge unit will cost around 500 to 6,000 dollars. This price can be higher depending on the features and brand you choose. Even with different prices, you can choose a bottom mount fridge of the same quality if you want to check each brand of product on the market. Even though it looks tiring, you will get the best price with amazing features.
So you can choose a bottom mount fridge as a place to store your food if you need the bottom freeze feature. Whatever brand you choose, you are worth getting the best quality of bottom mount fridge for your daily need.