French door refrigerators normally have more storage capacity and more features than a traditional top freezer refrigerator. But which one is the best french door refrigerator? Let's see here.
We have done the research for you.
Best French Door Refrigerators in Australia
Best Overall French Door:
Mitsubishi 630L French Door Refrigerator
This Mitsubishi 630L French Door Refrigerator is the Best French Door Refrigerator 2020 according to ProductReview.com.au. In addition to excellent customer reviews, it has spacious compartments with shelves cases, racks, and trays to fit all of your foods and bottles accordingly. It has 4-star energy rating, which makes it one of the most energy-efficient french door refrigerators in Australia.
Best Family Fridge in Australia:
Samsung 671L Family Hub Refrigerator
This refrigerator has everything a family needs. With this smart refrigerator, you can listen to your favourite songs and watch videos while you are in the kitchen. It has a built-in speaker system and a large touch screen. It also can show you a calendar, to-do list, memo, and many more. You can also find a recipe or get suggestions on what to cook based on ingredients in the fridge. It has a Food Reminder, which reminds you when something is going to expire. With the built-in cameras, you can know what is inside the refrigerator without open the door, or even when you are shopping, using your mobile phone.
Best French Door Refrigerator for Small Family with Little Kids:
Samsung SRF5700SD French Door Refrigerator
If Samsung 671L Family Hub Refrigerator is too expensive or too big for you, you may want to consider this Samsung SRF5700SD 488L French Door refrigerator. This model would fit 900mm wide refrigerator cavity, which is standard in Australian kitchens.
This refrigerator suits families with 1-2 little kids. The water dispenser does not require any plumbing and is BPA-free. Safer for the kids. And if you need to make ice cream or ice quickly, there is Power Freeze function that freezes in 3 seconds. Or if you want to make your food or drink chilled quickly, you can turn on the Power Cool function. The control panel is located at the front of the door, which makes it easy for you to change the temperature or to turn on / off a function.
The freezer compartment is easy to open with two doors. With 4 shelves and 2 deep slide-out drawers inside, you can keep things organised.
Best Cheap, Most Energy Efficient, and Slimmest French Door Refrigerator in Australia:
Haier 514L French Door Refrigerator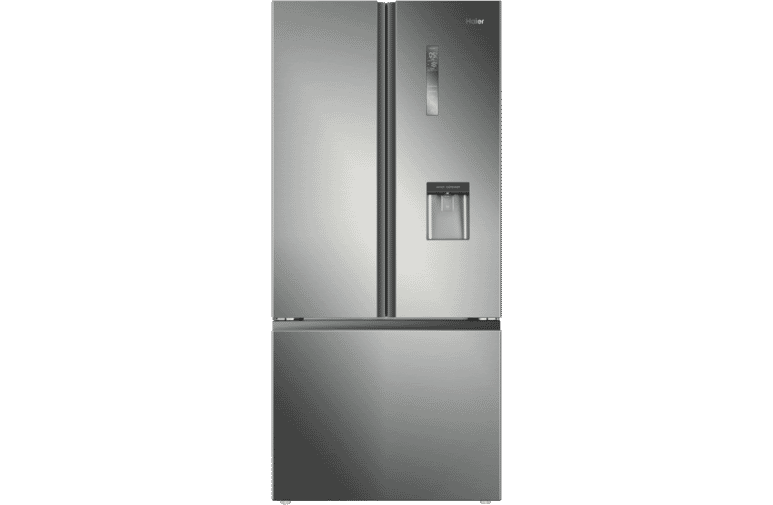 If you are looking for a cheap french door refrigerator with a water dispenser without any plumbing required, works well, good storage space, and can fit a narrow space, this would be the one. It also has a 4-star energy rating, makes it one of the most energy-efficient refrigerators in Australia.
Best Value for Money French Door Refrigerator in Australia:
Hisense 630L French Door Refrigerator
With such big storage capacity, an attractive price, an elegant look, and a water dispenser without any plumbing required, we believe that this is the best value french door refrigerator in Australia.
Quietest French Door Refrigerator in Australia:
LG 594L French Door Refrigerator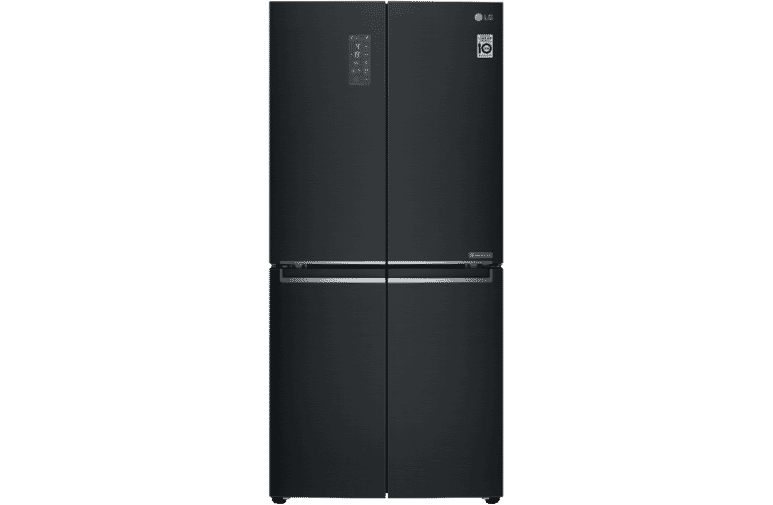 LG Refrigerators with LG Inverter Linear compressor are quieter than other refrigerators, with a noise level of 22Db. Check here for LG French Door Refrigerators.
This LG 594L French Door Refrigerator is one of the best selling LG french door refrigerators in Australia. With the LG Inverter linear compressor, it keeps the foods for longer by reducing temperature fluctuations. This LG refrigerator also has a Surround Cooling system, providing cooling for all compartments including for items stored at the back of the door, from the rear, and the front ceiling vents. With the Pure N Fresh, refrigerator odours are minimised. You can choose the colour in black or in stainless steel.
What Is a French Door Refrigerator?
The Frech door fridge is a two-door refrigerator model that has a storage section on top and a freezer at the bottom. This top below design usually consists of different doors. Manufacturers will provide two doors for the top and one door for freezing at the bottom. One or two drawers that slide horizontally will complement the freezer section of this type of refrigerator. With a wider design, you can store more food and drinks in this refrigerator.
This product is perfect for those of you who have a large family. You can store more ingredients in this refrigerator for public or personal use. With the french door style, you can access frequently used refrigerator items without bending over.
You will also find flexible storage features as well as water and ice dispensers. Even though it has two doors, the French door fridge can still be used in a small room because the door is not large.
Pros
Having an extraordinary design, french door fridge brings many benefits for you. Among the benefits that you can feel are the following.
More storage space
Because it has a size that tends to be larger, it's no wonder this refrigerator has more storage space. You will find several shelves that can hold up to a capacity of 900 litres for a refrigerator unit. This capacity depends on the brand you buy.
With a wider storage rack, you can store larger amounts of food and beverage ingredients. No need to worry anymore if you have to store various kinds of food for the next day because this refrigerator will accompany you.
Water and Ice Dispenser
This feature is one of the superior features that many users like. Many French door fridges are offered with a water dispenser and a water feature on the outside of the door. The presence of this dispenser makes you not have to open the refrigerator if you want to get ice or water. This certainly makes it easier for you in your daily activities. Just press the dispenser button, then you can drink water and ice more easily.
Modern Features
French door fridge designs are usually always equipped with advanced features. You will find Wi-Fi connectivity and compatible smartphone apps to help you manage your daily refrigerator.
This feature can include sending alerts to your cellphone when the refrigerator door is left open and a built-in camera that functions to check what is happening in the refrigerator. However, the presence of this feature still depends on the brand you choose. It could be that you won't find this feature in a brand or you might even find another feature.
Cons
Apart from the advantages, you will also find weaknesses in the French door fridge. What are the drawbacks? Here are some of these drawbacks.
It takes up space
Because of its larger size, of course, you have to prepare a large space to put this refrigerator. This refrigerator takes up more floors than a one-door refrigerator. So you can say this refrigerator is only suitable for those of you who have a large house or you who have a business in a large room.
More Expensive
The French door fridge has a larger size, so don't be surprised if it is offered at a higher price. For some people, maybe the price won't be a problem.
But if you have problems with finances, of course, the high price will be a problem. You have to consider carefully if you want to buy a french door fridge unit. Also, more power consumption is required. This means that you also have to increase your monthly expenses because your power needs increase.
Measurement
measurement is one of the things you should pay attention to when deciding to buy a french door fridge unit. By knowing the size of the refrigerator, you can more easily plan the layout of the space you use.
For a french door fridge unit, the size of the weight on the market is usually around 92 cm – 96 cm, then the height is around 170 cm – 180 cm and the dept size ranges from 90 cm – 96 cm. You can determine which size you will use according to the brand you choose. Because this size also depends on the brand launched by the company.
For capacity, french door fridges usually have sizes ranging from 450 litres to 900 litres which can be tailored to your needs. The amount of this capacity depends on the price and brand you buy. The more expensive the price of the french door fridge, the more capacity you will get. Whichever size you choose, you can adjust it to the number of your family members.
This refrigerator is perfect for large families of four or more. If you only live alone and don't have much food to store, this kind of refrigerator will drain your income. But if you want a large refrigerator even though you live alone and you don't have a problem with expenses, then this could be one of the products you can choose. If you need it to run a business, then this refrigerator can be the right choice.
How Much Does a French Door Refrigerator Cost?
The price of each unit of french door fridge is priced differently depending on the features it carries. However, overall these refrigerator products are offered with prices ranging from around $ 1,000 to $ 9,000. You will find the average price offered for a standard French door fridge unit ranging from $ 1,000- $ 4,000. The higher the price you have to pay, the more you will get. So what you want depends on what you pay.
Given the many conveniences, you can get by using this type of refrigerator, you can consider buying one of the brands of french door fridge. Whether you use it for personal or for business, you can still enjoy it.