Are you looking for LG 594L Slim French Door Refrigerator review? Check it here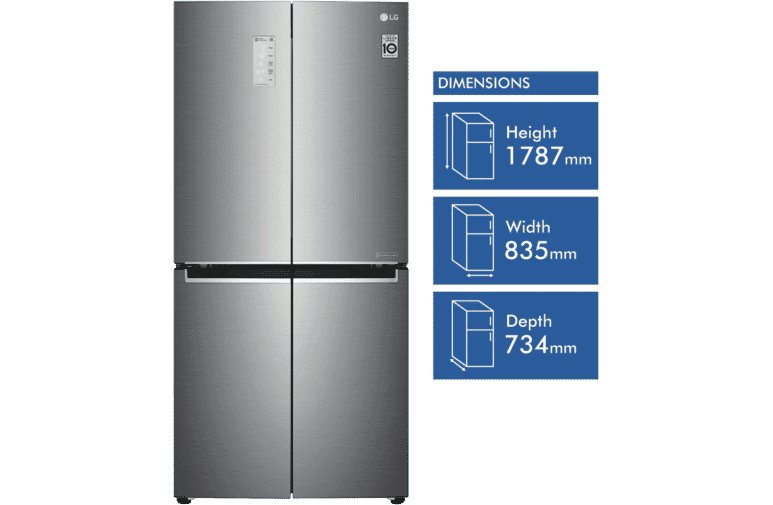 Design & Internal Layout
The LG 594L slim french door refrigerator comes in 2 different colour options: black or stainless steel. Both of them look modern with flat design and recessed door handle.
Its width is only 83.5cm, slimmer than most french door refrigerators. It would fit the 85cm fridge cavity. Although it is slim, it is tall (1.787m) and deep (73.4cm). With such dimension, LG 594L french door refrigerator has a fridge capacity of 344L and a freezer capacity of 250L.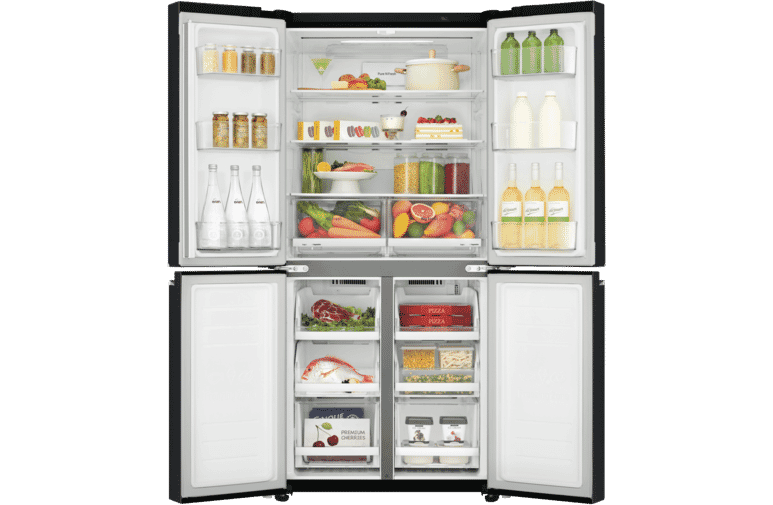 The freezer is located at the bottom of the refrigerator, in the form of 6 drawers. Some people will like it, but others won't. With the separator, the drawer is quite narrow, so not all items will fit in.
There are 2 regular crisp drawers in the fridge compartment, to put your fruits and vegetables. Three shelves in the fridge compartment, but only 1 is adjustable.
Compressor and Cooling System
This LG 594L Slim French Door Refrigerator uses LG Inverter Linear compressor, which reduces temperature fluctuations, hence keeping food fresh for longer. With the Surround Cooling system, the cool air enters the fridge from the rear and front ceiling vents. The items on the rack behind the door also gets the cool air.
Noise Level
LG Inverter linear compressor has a noise level of 22db, makes LG refrigerators with this compressor as the quietest refrigerators.
Other Features
Pure N Fresh
With its air filtration system, its fan actively forces air through the carbon deodoriser and re-circulates it back across the shelves to minimise refrigerator odours.
Set the Temperature Remotely
With the LG ThinQ app, you can adjust the refrigerator's temperature remotely using your smart phone.
Smart Diagnosis
When there is an issue, the refrigerator can tell you what needs to be fixed using the app.
Door Open Alarm
The alarm will remind you when you open the refrigerator's door for too long.
Energy Efficiency
3 star energy rating, same as most other french door refrigerators.
Value for Money
With such advanced technology and features, this LG 594L French Door refrigerator deserves the price.
Warranty
2 years manufacturer warranty and 10 years warranty on its compressor.
Customer Reviews
At this point of time, it has an average customer rating of 4.4 out of 5.0 according to Google.
Summary
Design & Layout

Cooling

Quietness

Features

Energy Efficiency

Value for Money

Warranty

Customer Reviews
Pros:
Slim. Will fit to many fridge cavity.
Have many features that most other refrigerators don't have, such as the Smart Diagnosis, Pure N Fresh, and the ability to set the temperature using a mobile phone app
Looks good
Quiet
10 years warranty for its compressor
Cons:
The freezer is in the form of 6 drawers, and the crisp drawer is divided into 2 drawers, which limits the size of the item can be stored in
More expensive than some french door refrigerators