Are you looking for Fisher and Paykel 519L Bottom Mount refrigerator review for the RF522BRPX6 model?
Fisher & Paykel 519L bottom mount refrigerator RF522BRPX6 is the Best Bottom Mount Refrigerator 2020 according to ProductReview.com.au. Fisher & Paykel is also the Best Brand for Fridges 2019 according to CHOICE. Is this fridge really good? Let's find out.
Our Overall Rating
Design & Layout

Cooling

Quietness

Features

Energy Efficiency

Value for Money

Warranty

Customer Reviews
Design & Internal Layout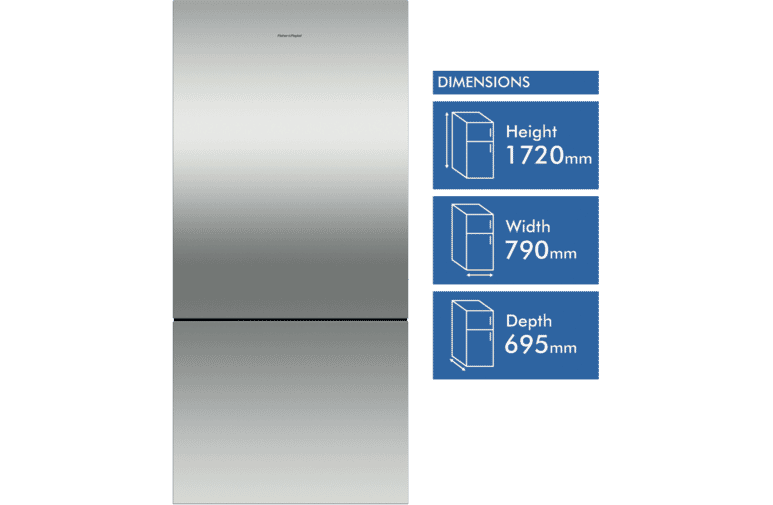 This bottom mount refrigerator has a width of 79 cm, similar to other bottom mount refrigerators. It is 1.72m tall and 69.5 cm deep. It has a freezer capacity of 159L and a refrigerator capacity of 360L.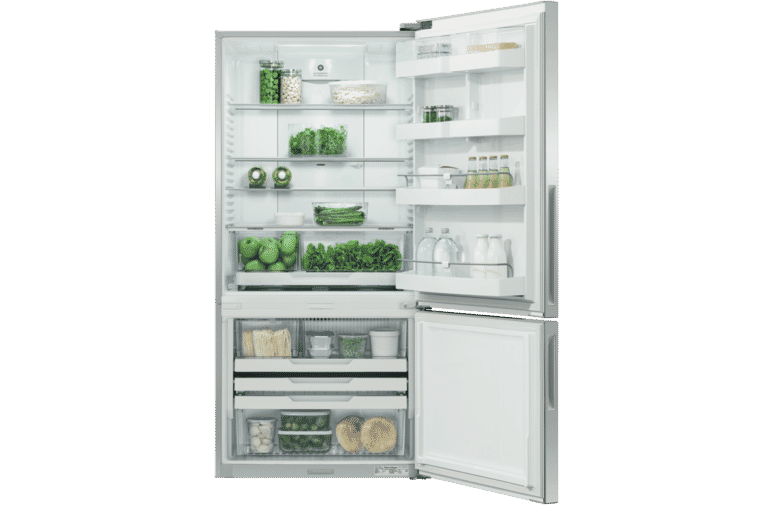 As you can see in the picture above and below, the freezer consists of a slide-out tray, drawer, and bins, so you can store your foods in a very organised manner. This is what most buyers love about the refrigerator. The bin is deep enough to store bulky items such as an ice cream tube.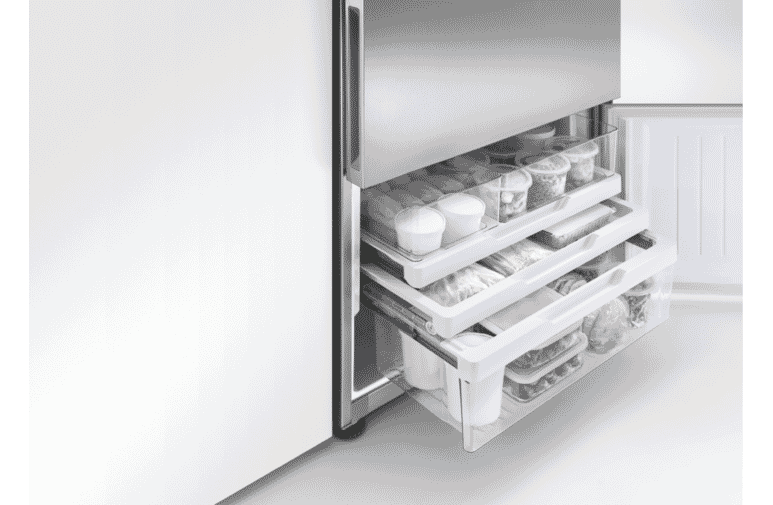 The storage bins for the fruits and vegetables are also easy to remove, so you can clean them easily. There are two of them, so you can separate the fruit with the vegetable. You can also set its humidity level with a simple to use humidity control. You can set the fruit storage to be less humid, and the vegetable storage to have high humid, to keep them fresher.
It has 4 adjustable glass shelves, 4 adjustable door shelves, and 2 covered door shelves for the items such as butter. The glass shelves are made from solid glass and are spill-safe as well as easy to clean. The door shelves are deep enough to hold bulky bottles such as 3L milk. It also comes with 2 stackable bottle holders.
The compressor does not take much space in the refrigerator compartment.
In terms of the external design, the refrigerator looks stylish and modern with real stainless steel. It also has the flat look, to integrate with your kitchen cabinet well.
Compressor and Cooling System
This Fisher & Paykel 519L bottom mount refrigerator is equipped with ActiveSmart technology with inverter controlled compressor, which helps to keep food fresher for longer by constantly maintaining the ideal temperature. With its Adaptive Defrost, you no longer need vacation mode settings. The microprocessor will select the best time to defrost based on how it is being used. It will recognise lower usage when you are away, saving energy by defrosting less often.
It also uses R600a refrigerant, which is more environmental friendly.
You can choose the option of Bottle chill, to chill out your drinks, or Fast freeze, to make your freezer cool quickly. The freezer is frost-free.
Noise Level
Unfortunately, Fisher & Paykel does not specify its noise level in the marketing information. However, majority people say this refrigerator is quiet.
Water Dispenser
It does not have water dispenser.
Ice Maker
It does not have a special ice maker. But 2 ice trays are included.
Other Features
Door alarm to remind you when you forgot to close the door
Front levelling feet
LED lighting
Real rollers
SmartTouch control panel
Energy Efficiency
It has 3 stars energy rating, just like many other refrigerators.
Value for Money
This refrigerator is more expensive than most refrigerators with similar capacity. However, with the award it receives, and the features and quality it has, it is worth it.
Warranty
2 years, just like other brands. There is an additional 3 years for sealed system parts only.
Customer Reviews
At this point in time, it has an excellent average rating of 4.7 out of 5 according to Google. The majority of customers gave 5 stars.
User Guide
Summary
This Fisher & Paykel 519L bottom mount refrigerator is a quality refrigerator with excellent layout, so your foods can look tidy and organised.
Pros:
Tray and bins in the freezer give many spaces, so you can store various items in the right place.
The door shelf is wide enough to fit bulky bottles such as 3L milk
The door is made from quality stainless steel and shelves are spill-proof and made from solid glass. All of the shelves are adjustable.
You can set the humidity differently between the fruit and the vegetables
Advanced compressor and cooling technology
Cons:
No egg tray
Expensive
3-star energy rating. Just average in terms of energy efficiency